The Swimming Pool Removal Process
Everything You Wanted To Know About Pool Demolition
520-906-4079
So How Does the Typical Process Work?

Before he gets started, Arizona Pool Busters will have to fill out and file the requested permits and licenses, discover all underground electric cables and wires and pipes and identify property lines and the easiest means for substantial machinery to gain access to to the pool.
Next, the electric utility, water and fuel pipes to the swimming pool would have to be shut off and taken out of service according to community laws.
A pool next needs to be drained. In the majority of cities, this could be a rather straightforward procedure, but a number of towns have very specific steps regarding draining a swimming pool, and these specifications can include chemically neutralizing the chlorine amount before beginning or specifying where the old water can be emptied into.
When the water has been drained, the walls and flooring start to get demolished. Specific equipment will be put into use to break into pieces the concrete, starting out on the bottom and the tops of the walls. Partial tear downs will eliminate just the upper parts of the pool sides, but total demolitions will include breaking up virtually all of the components.
The concrete, metal and remaining materials are trucked off to a local recycling or dumping center.
To complete the job, the correct kind of fill-in elements (frequently dirt or a mixture of rock and soil) are added in to fill up the remnant cavity. This backfill is dropped in, the top soil is graded and carefully compacted. Compaction needs to be done properly to avoid as much ground settling as possible.
Should I Just Do the Job By Myself?

No, you can't. You will probably be tempted to just fill in your old pool with gravel and soil, put down some sod and just pretend that it was never there, however, if you do that, you may be facing a big issue when it comes to reselling your house.
A lot of cities and towns now have precise requirements concerning how pools have to be taken out or covered up, and they generally require special permits and even an inspection. In the event you want to attempt to sell your home, you will need to acknowledge the old pool's position and existence of all buried power feeds used to maintain it. You will not want to have a buried, non-permitted pool in your yard. It can prevent you from actually getting your house sold when you wish to.
So, What's the Next Step?

If you could be thinking of getting your pool removed, your first move should include getting a free consultation and estimate from Arizona Pool Busters to help you to decide whether you want to proceed with it or not.
Eliminating a pool is not cheap, but you'll save money every subsequent year in electricity and water, insurance premiums and routine maintenance, which can manage to pay for the elimination charges in a few years.
Filling In A Pool
Drilling drain holes into the pool bottom.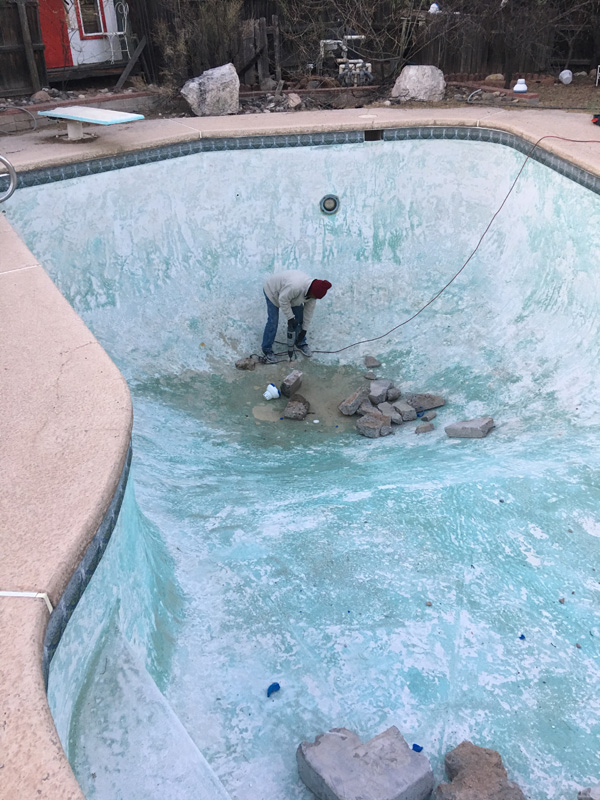 Filling with topsoil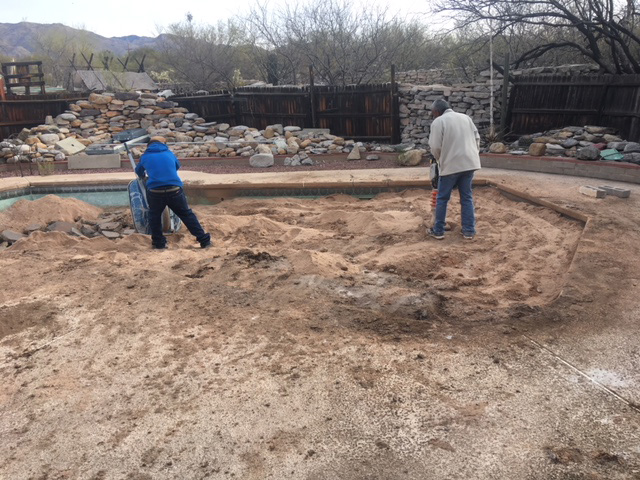 Completed pool fill in.